The Economics of the 2022-23 Federal Budget
The Federal Budget is one of the Australian government's macroeconomic policies to manage the economy. The Budget is the main instrument of the Government's Fiscal Policy strategy. It announces the planned levels of government expenditure (G) as expenses and government receipts (T) as revenue for the financial year. The Budget Papers set out the Fiscal Policy through the use of changes in the level and direction of government spending (G) and revenue (T) to influence: 
income distribution

resource allocation

the level of economic activity. 
There are three possible budget outcomes: 
a deficit budget, G > T

a surplus budget, T > G 

a balanced budget, G = T.
In recent years, the government has run budget deficits due to the need to stimulate the economy due to the Global Financial Crisis and sovereign debt issues in Europe, slowing global demand. The subsequent loss of government revenue due to low demand and higher welfare payments has added to the deficit spending, reduced tax revenue and increased the levels of government borrowing. Figure 1 shows the trends in budget outcomes over the last 40 years. During periods of recession (1982-83, 1993-94) and slow economic growth (2000-01, 2007-08), budget deficits increased to deal with the problem of insufficient demand and increasing levels of unemployment. In more recent times, the impact of the COVID-19 pandemic was to create the 2020-21 budget deficit and the most significant budget deficit since World War II.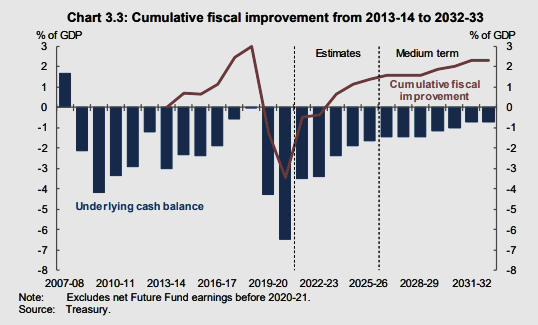 Figure 1: Australian Government Underlying Cash Budget Balance as a % of GDP.
Source: Australian Government 2022-23 Budget Paper No. 1.
In the periods following the economic slowdowns, tightening of Fiscal Policy and increased economic growth rates have led to the budget returning to a surplus. At the end of 2019, Treasurer Josh Frydenberg told the Parliament that the Government would prevail in its quest to deliver a long-promised budget surplus of $5 billion in the 2019-20 financial year. Due to the impact of COVID-19, that turned into a massive budget deficit of $85.3 billion, with the 2020-21 budget deficit rising to be $134 billion (6.5% of GDP).
As can be seen from Figure 1, the 2022-23 Budget is projected to continue the historically significant budget deficits. There is no sign of returning to a surplus in the forward projections. 
The impact of budget deficits since 2007-08 has led to an increase in the Australian Government's Net Debt (Figure 2). By 2006-07 the Australian Government had no debt. The subsequent budget deficits increased the Australian Government's Net Debt to 19.2% of GDP in 2018-19. However, due to the Government's response to the COVID-19 pandemic, Australia's net debt rose to 28.6% of GDP in 2020-21 before falling to 27.6% of GDP in 2021-22, in part due to robust nominal GDP growth. Net debt is estimated to be 31.1% of GDP ($714.9 billion) on 30 June 2023. In comparison, government debt represented only 3.7% of GDP during the height of the global financial crisis. The Treasury forecasts that net debt is expected to stabilise at 33.1% GDP in 2025-26 before improving over the medium term to reach 26.9% of GDP on 30 June 2033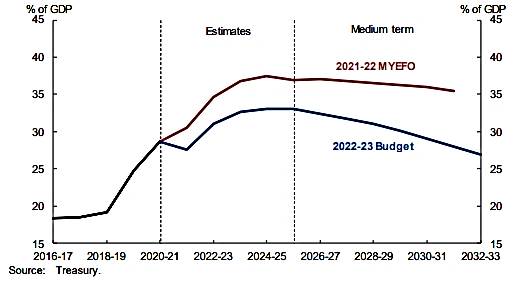 Figure 2: Public Sector Net Debt as a % of GDP.
Source: Australian Government 2022-23 Budget Papers, Budget Snapshot.
Why is the Budget Deficit less than expected?
Australia's budget deficit this fiscal year will be $27 billion lower than the government's mid-year forecast due to an increase in workers being hired and higher commodity prices bolstering revenue. The underlying cash deficit in the 12 months through June 2022 is expected to be $80 billion, compared with the previous year's Budget estimate of $107 billion. 
The deficit has been reduced as Australia's economy has recovered rapidly from the pandemic as early containment of COVID-19 boosted confidence, and fiscal and monetary stimulus supported firms and households through the crisis. This led to unemployment falling to 4.0% in February 2022 from a peak of 7.5%, meaning increased tax revenue and fewer welfare payments.
In addition, revenue from iron ore, Australia's largest export, has approached all-time highs. Miners have been struggling to keep up with demand from Chinese steel mills as the world's second-largest economy accelerates. Iron ore prices are at record levels generating increased tax revenue for the Australian government. In addition, Russia's invasion of Ukraine and subsequent sanctions on Russia have pushed up global commodity prices, which will boost Australia's company tax revenue in areas such as coal, gas and wheat.
The previous section examined the overall fiscal strategy in recent decades, and this section will consider the fiscal strategy associated with the current budget. The fiscal strategy relates to what the Government is trying to achieve in the 2022-23 Budget and its subsequent budgets. Because the Federal Budget is a plan of what the Australian Government expects to achieve, it does not mean that it will be achieved, as was shown in 2019-20 with the budget going from a surplus to a large deficit due to COVID-19. 
In 2021-22, Australia returned to economic growth and falling unemployment levels. The Budget Papers (2022) state that 'Total receipts are expected to be 23.8% of GDP in 2022-23 and are projected to reach 25.8% of GDP in 2032-33. Total payments are expected to fall from 27.2% of GDP in 2022-23 to 26.3% of GDP in 2025-26. Payments as a share of GDP are projected to remain largely stable across the medium term to be 26.5% in 2032-33' (Table 1). 
Table 1: Australian Government general government sector budget aggregates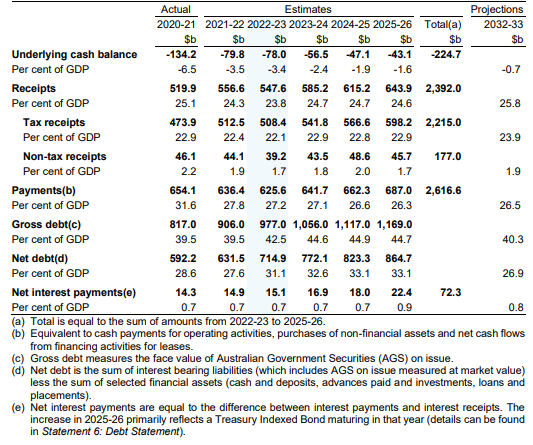 Source: Australian Government 2022-23 Budget Papers, Fiscal Strategy and Outlook.
As can be seen in Table 1, the Government is aiming to slightly reduce the level of stimulus to the economy by decreasing the underlying budget deficit from an estimated $79.8 billion (3.5% of GDP) in 2021-22 to a $78 billion deficit (3.4% of GDP) in 2022-23. The Australian economy had started to recover faster than initially projected, as a result, the cyclical component of the budget deficit has been reduced (Figure 3). 
An alternative budget measurement is known as the Fiscal Balance (Table 2). This is the accrual accounting measurement of the Cash Balance. The Fiscal Strategy is to reduce the overall Fiscal Balance from a deficit of $84.2 billion in 2021-22 to a deficit of $78.8 billion in 2022-23. This will achieve a Fiscal Deficit of 3.4% of GDP in 2022-23.
Table 2: Australian Government general government sector accrual aggregate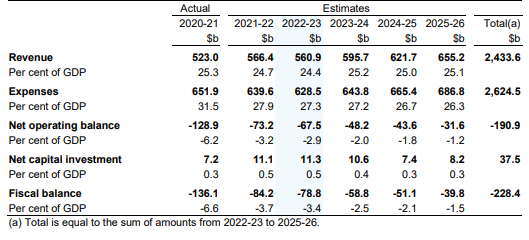 Source: Australian Government 2022-23 Budget Papers, Fiscal Strategy and Outlook.
As shown in Figure 3, the overall trends in government payments and receipts will converge in the future estimates, largely as a result in a rise in the percentage of tax to GDP that Australians will have to pay.
Figure 3: Total payments and receipts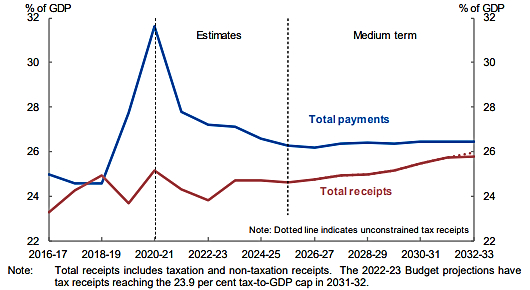 Source: Australian Government 2022-23 Budget Papers, Fiscal Strategy and Outlook.
A number of factors and assumptions are underlying the Budget projections for the future years. In May 2022, there will be a Federal election. If there is a change of government, there will be an additional budget brought down in 2022. The continued impact of Omicron outbreaks and the recent floods in Queensland and New South Wales will impact the budget outcome. The Russian invasion of Ukraine and potential new variants of COVID-19 continue to present risks to the outlook. Continued steady growth is forecast for employment, along with further declines in the unemployment rate, which is forecast to fall to 3.75% by late 2023. According to the Treasury, real GDP is expected to increase by 4.25% in 2021-22 and 3.5% in 2022-23. Overall, the outlook remains positive, though considerable risks remain. Australia's success in containing the health crisis to date has underpinned the economic recovery. Still, continued growth will rely on the effective containment of any COVID-19 outbreaks in Australia, including those that may arise from any new strains of the virus. It should be noted that economic conditions may change, and this can impact the budget outcome both positively and negatively over time. The exact outcome for the 2022-23 Budget will not be determined until late 2023.
Structural Budget Balance Estimates
Another important consideration of the government's fiscal strategy is the structural budget balance (Figure 4). The structural budget balance adjusts for temporary factors that influence the underlying cash balance. By removing these factors, the structural budget balance can provide broad insights into the sustainability of fiscal settings. Because it is estimated rather than observed, the structural budget balance is sensitive to the assumptions and parameters that underpin it. Due to the pandemic and recent volatility in commodity prices, there is greater than usual uncertainty around estimates of the structural budget balance.
Figure 4: Structural budget balance estimates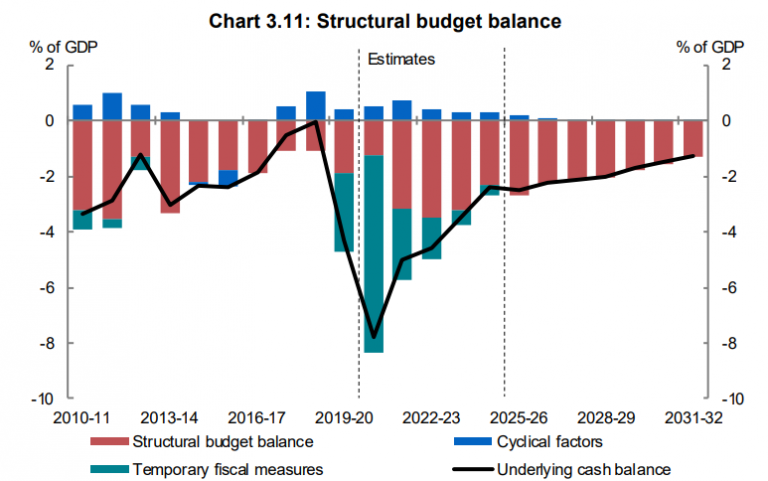 Source: Australian Government 2022-23 Budget Papers, Fiscal Strategy and Outlook.
The underlying cash balance is projected to steadily improve over the forward estimates as temporary fiscal support measures unwind (Figure 4). Cyclical factors are estimated to contribute to the underlying cash balance in the near term, driven by commodity prices which are expected to be well above their assumed long-run levels. This positive contribution is projected to recede as commodity prices return to their accepted long-run levels.
The latest estimates suggest an ongoing structural budget deficit of over 1% of GDP by 2031-32 (Figure 4). This suggests that even if Australia reaches full employment, there will still be budget deficits, at least for the next ten years. In the near term, the large temporary economic support measures and cyclical factors (including the automatic stabilisers) make significant contributions to the deterioration in the underlying cash balance.
When writing this article, the 2022-23 Budget has not been passed through Federal Parliament. It is usual for sections of the Budget to be amended or rejected totally. In addition, considering the Federal election in May, the politicians want to be popular. Hence, the size of the deficit could be more extensive. This article will discuss what was proposed in the Budget Papers and the effect that those proposals are likely to have on income inequality and resource allocation. It should be noted that a number of the policy changes will not take effect till 2025 or later. The Government anticipates that the economy will be on a stable growth path by then.
Plans for Government Revenue 2022-23 Budget
Total revenue for 2022-23 is expected to be $560.9 billion (24.4% of GDP). Total expenses are expected to be $628.5 billion (27.3% of GDP). Despite cuts to income tax in the Budget, there is expected to be some improvement in government revenue that should result from increased income tax revenue due to expected employment growth and bracket creep or fiscal drag. Fiscal drag occurs when wage rises push taxpayers into higher tax brackets. Allowing for the expected higher inflation rate and nominal wage increases in the budget forecasts will occur if tax brackets are not adjusted. The 2022-23 Budget forecast is for tax revenue to increase from 24.4% of GDP in 2022-23 to 25.1% in 2025-26. Individual PAYE income tax is expected to rise by over 17%. Figure 5 shows the primary sources of government revenue in the 2022-23 Budget. The following sections will discuss the main changes that have been proposed regarding taxation revenue in the 2022-23 Budget.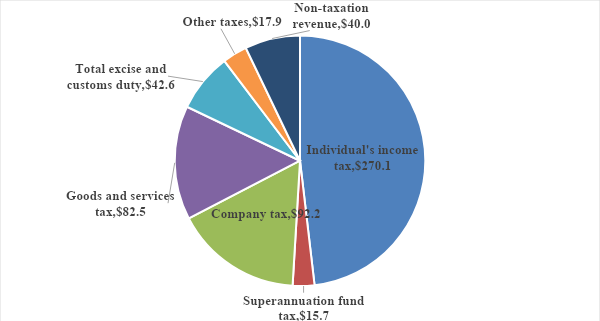 Figure 5: Sources of Revenue 2022-23 Budget (in billions).
Source: Australian Government 2022-23 Budget Papers, Budget Overview
1) Changes to Taxation Policies
A number of new taxation policies are only temporary to help with the cost of living increases caused by Russia's invasion of Ukraine and subsequent events.
(a) One-off cost of living tax offset
From July 1st 2022, over 10 million individuals will receive a one-off $420 cost of living tax offset. Combined with the low and middle-income tax offset (LMITO), eligible low- and middle-income earners will receive up to $1,500 for a single income household or up to $3,000 for a dual-income household.
(b) Temporary fuel excise relief
The Government will reduce fuel excise by 50% for 6 months until September 28th. This will see excise on petrol and diesel cut from 44.2 cents per litre to 22.1 cents per litre.
(c) Tax concession for small business
With an aggregated annual turnover of less than $50 million, small businesses will be able to deduct a bonus of 20 per cent of the cost of business expenses and depreciating assets that support digital uptake, up to $100,000 of expenditure per year. The Technology Investment Boost will apply to eligible expenditures incurred between 7:30 pm (AEDT) on March 29th 2022 (Budget night) and June 30th 2023. It will support investment in digital items such as cloud computing, cyber security, accounting and e-invoicing software and web page design. The Boost is estimated to provide $1 billion in tax relief.
(d) Changes to Income Tax scales
The new cost of living offset and the low and middle-income tax offset (LMITO) for 2021-22 will provide around $12 billion in support when taxpayers lodge their tax returns from July 1st 2022. This is on top of around $16 billion in permanent tax relief to households in 2022-23. In 2022-23, more than 12 million taxpayers are expected to benefit from lower taxes under the plan, worth up to $2,565 for individuals or $5,130 for dual-income couples. As a result of the Personal Income Tax Plan, an individual earning $90,000 each year, around the average full-time income, will benefit from a total reduction in tax of $8,655 from 2018-19 to 2022-23.
The Government has legislated the abolition of the 37% tax bracket and the reduction of the 32.5% marginal tax rate to 30% from 2024–25. This will mean around 95% of taxpayers will face a marginal tax rate of 30% or less in 2024–25.
There is a need for personal income tax reform. As individual incomes rise, most people will be paying more income tax. As people's incomes rise, they pay a greater proportion of any income gains in tax and their tax payments increase over time. This is known as 'Bracket Creep' or 'Fiscal Drag'. Income tax rates should be regularly adjusted to reflect rises in money wages to prevent an increased tax burden especially on lower and middle income earners.
Plans for Government Expenditure 2022-23 Budget
Total expenses for 2022-23 are expected to be $628.5 billion (27.3% of GDP), a decrease of less than 2% on costs in 2021-22. This has occurred as a result of ending the support provided by Jobkeeper and Jobseeker in March 2021 and the lower level of unemployment reducing welfare payments. However, there have been numerous new expenditure areas, which will be discussed below. Figure 6 shows the main areas of government spending in the 2022-23 Budget. The following sections will discuss the main changes that have occurred in regard to government expenditure in the Budget.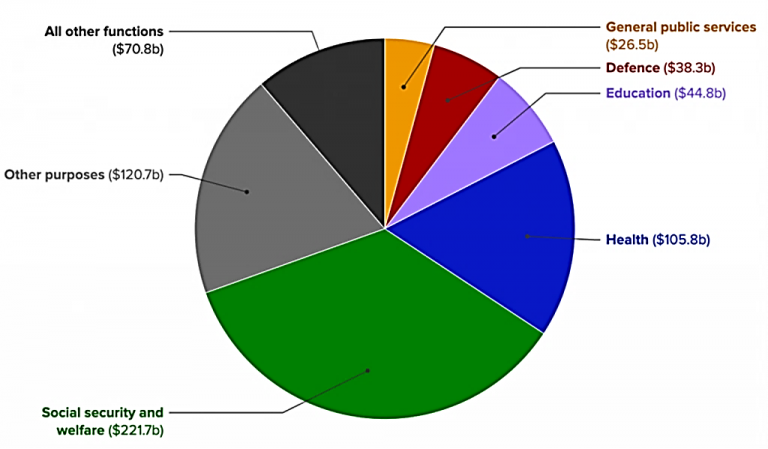 Figure 6: Areas of Government Expenditure 2022-23 Budget.
Source: Australian Government 2022-23 Budget Papers, Budget Overview
The 2022-23 Federal Budget is about increasing spending, promoting economic growth and lowering unemployment. It must also be remembered that 2022 is an election budget, so it will provide sweeteners for some voters.
Increases in Government Expenditure
Economic recovery is well underway as the worst of COVID-19 appears to be over. Still, the pandemic and new shocks, such as the recent floods in Queensland and New South Wales and the Russian invasion of Ukraine, are all impacting the levels of expenditure in the 2022-23 Budget. The main items that deliberate government policy measures have changed are:
(a) Cost of living payment to low-income earners
From 20 March 2022, almost 5 million Australians have benefited from increased social security payments, with Age Pension, Disability Support Pension and Carer Payment rates increasing by more than $20 a fortnight for singles and $30 a fortnight for couples. To further help households with the cost of living pressures, the Government will provide a one-off, tax-exempt payment of $250 to eligible pensioners, welfare recipients, veterans and concession cardholders. It will be paid automatically to 6 million people at $1.5 billion. More than half of those who will benefit are pensioners.
(b) $17.9 Billion Extra for Infrastructure.
The Government has increased its 10-year infrastructure pipeline to a record $120 billion, with an additional $17.9 billion committed to road, rail and community infrastructure projects across Australia. The Government's road and rail commitments in this Budget include:
$3.1 billion for the Melbourne Intermodal Terminals Package, including delivery of the Beveridge and Western Interstate Freight Terminals and the Outer Metropolitan Ring Rail South in Victoria.
$2.7 billion for the Brisbane to the Sunshine Coast (Beerwah-Maroochydore) and Brisbane to the Gold Coast (Kuraby-Beenleigh) Faster Rail projects in Queensland.
$2.3 billion for the North-South Corridor – Darlington to Anzac Highway in South Australia.
$1.0 billion for the Sydney to Newcastle – Tuggerah to Wyong Faster Rail Upgrade in New South Wales.
(c) Increased Funding for Job Training
The Government will invest a further $2.8 billion over five years from 2021-to 22 to upskill apprentices, including introducing a new streamlined Australian Apprenticeships Incentive System. This investment establishes a pathway that backs and develops apprentices in priority trades and moves away from a complex system with over 30 different payments for employers and apprentices
(d) Investing in the Digital Economy
The Government has invested more than $3.5 billion in digital initiatives since the 2020-21 Budget. This includes $1 billion in this Budget to support small businesses to digitalise their operations with a technology investment boost that will encourage investment in digital assets and services. The Government is committing $38.4 million over 3 years from 2022-23, and $12.6 million per year ongoing from 2025-to 26 to implement the Government's response to the Inquiry into the Future Directions for the Consumer Data Rights (CDR). These initiatives will enable consumers to save time and effort in switching to more competitive and personalised products and services, and instruct trusted third parties to take action on their behalf. This additional funding builds on the existing over $254 million investment to develop and accelerate the rollout of the CDR scheme.
(e) Disaster relief
The Government is providing support to individuals and businesses impacted by the devastating floods in parts of Queensland and New South Wales. The Government expects to spend over $6 billion on disaster relief and recovery as a result of these floods, including:
$2.2 billion to households for income support, temporary accommodation and social services.
$665.0 million to businesses and farmers for repairs, new equipment and support services.
$588.6 million for community clean-up and recovery, including $300 million from the Emergency Response Fund for recovery and post-disaster resilience initiatives.
(f) Support for aged care
A further $468.3 million is being announced in this Budget to continue implementing the Government's response to the Royal Commission into Aged Care Quality and Safety. This builds on the $17.7 billion investment in aged care announced in the 2021-22 Budget.
(g) Support for childcare
The government invests record funding in childcare services, providing more than $10 billion annually to support families. In 2021-22 the Government committed an additional $1.7 billion to improve the affordability of child care for about 250,000 families by removing the annual cap on the Childcare Subsidy and increasing the rate for families with two or more children in care. In 2022-23 the Government is further expanding access to child care for families in regional and remote areas, providing $19.4 million to establish up to 20 child care services in areas with an absence or limited supply of child care.
 (h) Increased defence spending
The Government will spend $15 billion for an east coast submarine base and other defence projects. The total Defence workforce will increase by 18,500 personnel by 2040, at at least $38 billion. The Australian Defence Force will increase to nearly 80,000 personnel and the total Defence workforce to over 101,000. Workforce growth will support the effective use of new air, land, sea and cyber capabilities acquired over the next two decades.
Cuts in Government Spending
(a) Foreign Aid
Total expenses under the foreign affairs and economic aid sub-function are expected to decrease by 3.2% in real terms from 2021-22 to 2022-23 and decrease by 19.2% in real terms from 2022-23 to 2025-26. This shows that the Government has little concern for the welfare of its neighbours and disadvantaged nations. This is a serious concern because of the growth of China's influence in the Pacific region. 
(b) Universities
Expenses under the higher education sub-function are expected to decrease by 5.4% in real terms from 2021-22 to 2022-23 and decrease by 3.6% in real terms from 2022-23 to 2025-26. The decrease in expenses in 2022-23, and the subsequent decrease in expenses over the forward estimates, primarily reflect lower costs under the Commonwealth Grant Scheme due to the Job-ready Graduates higher education reform package. In other words, the Government is expecting students to pay a higher percentage of the cost of their education. This may discourage potential graduates at a time when Australia needs a more skilled workforce. 
Economic effects and economic outlook
The government's fiscal stance refers to whether it is trying to increase growth (expansionary policy) or slow the economy's growth rate (contractionary policy). Budgets have many effects on the economy. Initially, changes in government spending will affect the level of aggregate expenditure and aggregate demand and thus income in the economy. This change in the level of income will be magnified by the multiplier effect. If there is an increase in income, this will generate economic growth and lead to higher employment levels, while reductions in income will do the opposite. A reduction in taxation will have a similar effect to increasing government spending. It will increase income in the economy. An increase in the tax rate will reduce income, leading to a reduction in economic activity and higher unemployment. 
Even though the size of the budget deficit is slightly lower in 2022-23, this is due to cyclical improvements in the economy. The overall economic impact of the 2022-23 Budget relates to an increase in the structural budget deficit compared to 2021-22 (Figure 4). In general, economic theory would suggest that this would act to generate a major expansion in the economy and increase economic growth and employment. The 2022-23 Budget estimates that the government's economic support is expected to result in economic activity being 3.5% in 2022-23 and the unemployment rate falling below the current rate of 4.0% to 3.75%. The expansionary budget will put further pressure on inflation and leave raising interest rates as the primary macroeconomic means to gaining control of inflation. The higher interest rates could leave many people paying off their mortgages in severe financial difficulty.
It should be noted that different Budgetary measures have different impacts on the economy. The impact of the income tax cuts is strongly influenced by the proportion that is spent. If people save the income tax cuts, then the economy's impact is very small. However, Treasury has estimated that the spending on infrastructure has a multiplier of 4, suggesting that every billion dollars spent on infrastructure will grow the economy by four billion dollars, although this will be over a lengthy period of time (25 years). So the overall impact of the budget would be very expansionary, allowing for improvement in the domestic and global economic conditions after COVID-19. This is supported by the Treasury's economic estimates in Table 2. The table shows that prices and wage growth are expected to increase, and the unemployment rate is expected to decline to 3 3/4% in 2022-23. Each of these outcomes would tend to increase government revenue during 2022-23 due to their impacts on the cyclical component of the budget deficit. Provided the estimates are correct. 
Table 2: Major Economic Parameters and Forecasts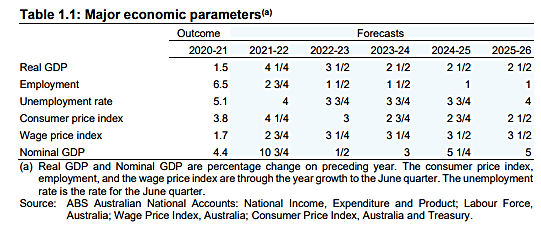 Source: Australian Government 2022-23 Budget Papers, Budget Overview
The Impact of the Budget on Income Distribution
Struggling families have been enduring declining purchasing power for the entire period of the Coalition government. The estimates of wage growth in 2022-23 are still below the estimated inflation rate, leading to falling real incomes for Australian workers. In addition to this, wage stagnation and insecure work are a feature of a jobs market built on the declining ability of workers to bargain for better wages and conditions. State Governments have put caps on public sector wage rises in a number of states of around 2.5%. This is well below the expected inflation rates in the periods 2021-22 through to 2024-25 (Table 2). So real wage rises are unlikely for many workers shortly. 
Regarding the impact of the Budget on income inequality, the most recent study by the National Centre for Social and Economic Modelling (NATSEM) (2021) at the University of Canberra undertook economic modelling to measure the impact of the 2021-22 Budget on income inequality. The NATSEM (2021) modelling indicates that the more you earn, the better off you will be from the Federal Budget 2021-22 and the following years. This is because changes to the tax and welfare system mostly benefit those paying tax, and those who don't earn enough income to pay tax benefit the least. 
Although the Government did not announce any change to personal income tax rates or thresholds, it has announced an increase in the amount of the low and middle-income tax offset (LMITO) and a one-off economic support payment to eligible social security recipients and concession cardholders to ease the cost of living pressures. The LMITO will be increased by $420 for the current tax year ended 30 June 2022 as a one-off cost of living tax offset. At an increased rate, the LMITO benefit will reap tax savings of up to $1,500 (see Table 3) for over 10 million eligible individuals after they lodge their 2022 income tax returns. The Government has not extended the LMITO beyond this current income year. As a result, the tax will rise for many at the end of 2022-23. 
Table 3: Short term tax relief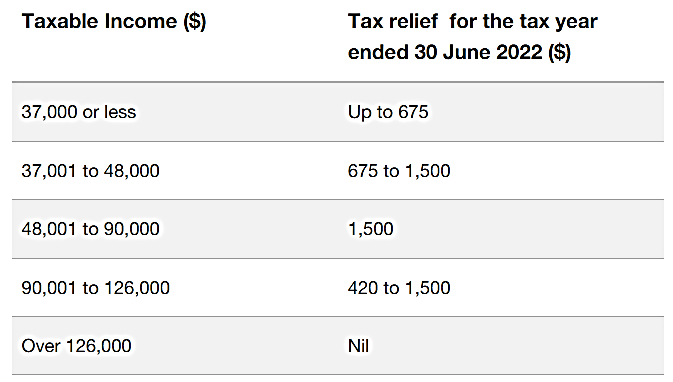 Source: Australian Government 2022-23 Budget Papers, Budget Overview
The NATSEM Report (2021) concluded that overall, the impact of the proposed tax transfer policy change in the 2021-22 and 2022-23 Budgets are small compared with the likely impact of the 2024-25 tax cut, which will substantially benefit the higher income groups.
1 It should be noted that NATSEM did not produce a report in 2022 specifically on the income inequality outcomes of the 2022-23 Budget.
With the new childcare subsidy commencing from 2022, NATSEM estimates suggest increased welfare payments will continue to assist those in the first quintile. The childcare subsidy will help those in the mid and high-income groups. As the childcare subsidy accrues to working families only, and the largest benefit goes to families with mid to high income, a family with an annual income greater than $129,000 would benefit the most.
Many factors can influence the outcome of the 2022-23 Budget. The Coronavirus pandemic across the globe and Australia may still impact the actual budget outcome in 2022-23 if new variants impact the economy. Implementing a successful vaccine program and opening Australia's borders have improved the overall state of the economy and the Budget outcome. A change of Federal Government in May 2022 could also lead to an additional budget in 2022. Falling commodity prices and a rising Australian dollar would work to worsen the size of the budget deficit.
On the other hand, Treasury forecasts project strong economic growth and wage growth and a lower unemployment rate. Such an outcome would most likely improve the budget outcome. Russia's invasion of Ukraine is a significant factor impacting the domestic and global economy in 2022. The duration and result of this conflict will affect the overall economic outcome for the economy and the budget.
1.What is a government budget? What are the three possible types of budget outcomes?

2. What factors have led to Australia having Federal Budget deficits in recent years?

3. What impact have budget deficits had on the level of government debt?

4. What was the cash balance in 2021-22? What is it expected to be in 2022-23? What is the percentage change in GDP?

5. What has been the budget trend in the last five years? Suggest reasons for this.

6. What is the difference between the structural budget outcome and the cyclical budget outcome? What are the expected percentages of GDP of these in the 2022-23 Budget?

7. What are the main changes in tax policy in the 2022-23 Budget?

8. What are the main changes to Government Expenditure in the 2022-23 Budget?

9. What are the likely impacts of the 2022-23 Budget on:
• Interest rates

• Inflation

• Economic growth

• Employment and

• Income inequality
10. Why will there be an additional Federal Budget later in 2022?


Australian Bureau of Statistics (various), Australian National Accounts, Cat.No. 5602.0. Canberra.
Australian Bureau of Statistics (various), Employee Earnings and Hours, Cat.No. 6306.0. Canberra.
Australian Bureau of Statistics (various), The Labour Force, Cat.No. 6203.0. Canberra.
Australian Government, Budget 2022-23, available at https://www.budget.gov.au/
Reserve Bank of Australia (various), Reserve Bank Bulletin, Canberra.
International Monetary Fund (2022), World Economic Outlook, available at http://www.imf.org/ 
NATSEM. National Centre for Social and Economic Modelling (2021), University of Canberra. NATSEM 2021 Federal Budget Analysis: Mid to high income groups may benefit more than people might think – University of Canberra
Stokes, A. and S. Wright (2020), HSC Economics Digital Text, Greenacre Educational Publications, Sydney.