MANAGING PORTERS CREEK WETLAND
Lorraine Chaffer, Geography Education Consultant, Lakehaven, NSW.
Porters Creek Wetland wetland on the NSW Central Coast. This small wetland supports a large diversity of plants and species, plays an important role in filtering runoff before it enters the Wyong River and Tuggerah Lake, and mitigates flooding in the lower Wyong River. Rural, industrial, and urban development have impacted the wetland and continue to threaten its ecological integrity, necessitating significant management and protection interventions at a range of scales.  
Landuse zoning, designation as National Parks and Nature Reserves, and listing as sites of global significance, such as RAMSAR and World Heritage sites, are strategies used to stop the clearing, draining, infilling and use of wetlands at national and global scales. While these protections are extremely important, threats to wetlands such as Porters Creek Wetland, come from activities within catchments. Management at a local scale is essential to prevent or minimise the impacts of catchment change on a wetland.
Management and protection
The management of Porters Creek Wetland is about 
protection through legislation and zoning 

conservation strategies to limit the consequences of human activities by addressing changes to hydrology and threats to biodiversity and ecosystem functioning.
In the past, Darkinjung people used the wetland sustainably for water, food, and other resources, particularly in winter when flowering trees and plants attracted birds and animals, and during droughts when other species were scarce. Wetland plants were used for medicines, fibres, canoes, shelter, and tools. Paperbark was used for bandages, wrapping and medicine; the gum from wattle trees used in spear and axe making; wattle seeds were ground into flour and rushes used to make baskets. Until the change that came with European settlement around the Tuggerah Lakes, the natural functioning of the Porters Creek Wetland ecosystem was maintained.  
Recognition and protection
Contemporary attitudes towards Central Coast wetlands changed during the 1990s when the value of wetlands was being widely recognised nationally and internationally and issues with water quality in the Tuggerah Lakes were increasing. Significant progress was made on legal protections for PCW, including the designation of the wetland as a special conservation zone, 7(g), by Wyong Shire Council (now Central Coast Council) and its inclusion as a wetland of state significance under the Coastal Wetlands State Environmental Planning Policy 14 (SEPP14). The borders of PCW are zoned 7a for general conservation.  
In 2020 Central Coast Council sought greater protection for PCW by proposing a Conservation Agreement under the Biodiversity Conservation Act 2016 (NSW). The agreement would provide permanent legal protection for council owned land by reclassifying it from operational to community land. The reclassification would mean land could not be developed or modified in ways that detract from biodiversity values. The proposal was put on hold in 2020 when an administrator was appointed.
At a local government scale, Local Environment Plans require Environmental Impact Assessments and Species Impact Statements for development applications. Development Control Plans (DCPs) now mandate the use of water tanks on new houses, limits to nonporous surfaces on building sites and developers must manage sediment and water runoff from new subdivisions. The DCPs explicitly target the issues of stormwater runoff and increasing sediment loads in local waterways, including PCW.
Since 1999, monitoring programs to assess environmental conditions such as water quality and biodiversity in the Porters Creek Wetland and the Tuggerah Lakes Catchment, have provided valuable data for management planning.
A. Stormwater
Water Sensitive Urban Design (WSUD) attempts to integrate land and water planning within Porters Creek Catchment to achieve a balance between urban growth and environmental sustainability. Constructed wetlands, porous paving, grassed swales, raingardens, onsite water storage (water tanks) and the revegetation of riparian zones and cleared land are used in WSUD to increase infiltration, reduce stormwater runoff, and improve water quality.
Constructed wetlands attempt to mimic the role of natural wetlands in improving the quality of water leaving urban developments. A network of these wetlands is found throughout the Porters Creek Catchment. These artificial wetlands use reeds to remove nutrients and retention ponds to slow water and allow sediments to settle and UV rays to penetrate. The aim of constructed wetlands is to reduce nutrients, sediment, litter, and weeds entering the wetland. To be effective these artificial wetlands must be large enough to deal with a substantial increase in runoff and be regularly maintained to improve water quality.
Managing runoff from large industrial sites is as important as it is from housing estates. When the Woolworths Distribution Centre was built in the Warnervale Industrial Estate, state of the art WSUD features included underground storage tanks to collect stormwater for later release into the wetland to mimic natural precipitation and seasonal runoff patterns at the site.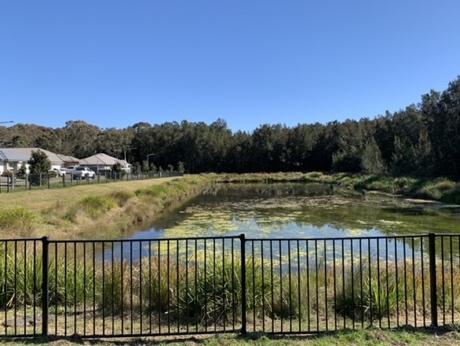 B. Biodiversity
To maintain biodiversity and protect vulnerable and endangered species, wildlife corridors such as the Wadalba Wildlife Corridor, connect ecological communities, particularly natural woodland, and to Porters Creek Wetland. Most corridors follow natural waterways or run along ridges where woodland remains intact. They are particularly important for wildlife during droughts and bushfires. The Wadalba Wildlife Corridor (WWC) was created during the early 2000's when the area was at the centre of rapid urbanisation following the establishment of the Wadalba Urban Release Area. The east – west running corridor runs along the ridge line at Wadalba and connects to the natural drainage line flowing towards Porters Creek Wetland. 
Additional measures have been used to protect endangered species such as the squirrel glider. Wildlife boxes have been placed in trees within the wildlife corridors and in places where habitat has been significantly reduced such as Wadalba and Warnervale Business Park. The species are being closely monitored. A local community group, the WWC Bushcare Group conduct wildlife surveys, remove weeds and replant native species.
The buyback of farming land on the perimeter of the wetland was a strategy based on the idea of regenerating the wetland by increasing its size and replanting Swamp Mahogany and paperbark trees. Only a limited number of purchases were ever made as the value of land around the wetland means it is financially unviable for governments to consider – such a strategy today will only work through the philanthropic donation of land for conservation.
C. Community engagement
Community education and consultation about Porters Creek Wetland is critical to the success of attempts to grow an appreciation of its value and to reduce human impacts.  The Central Coast Council website hosts educational materials about Tuggerah Lakes Estuary and Porters Creek Wetland. Central Coast Council has been involved in the production of e-books about wetlands and teaching programs for schools and has erected educational signage at key sites such as artificial lakes and wetlands. Local community groups such as Central Coast Environment Network are also involved in educating residents.  
The Central Coast Council consults community members and groups in relation to management plans and works with groups such as Landcare on weeding and tree planting activities. Community groups such as Coast Environmental Alliance (CEA) monitor wildlife and record sightings of species such as possums, koalas, and bats. The Central Coast Community Environment Network and Friends of Porters Creek Wetland advocate for the protection of PCW.
Effectiveness of management
Generally, Porters Creek Wetland continues to provide the environmental services of a wetland such as absorbing runoff and slowly releasing it in times of drought, filtering water on its journey to Tuggerah Lakes and providing habitat for a high number of species (biodiversity). However, the scale and pace of development in the Porters Creek catchment and limited effectiveness of Water Sensitive Urban Design installations and wildlife conservation efforts create uncertainty about the future. 
Although Development Control Plans contain specific provisions for the incorporation of Water Sensitive Urban Design in new developments there are issues that limit their effectiveness. The 2020 Tuggerah Lakes Water Quality Independent Review concluded that urban water quality design did not meet best practice standards. Many constructed wetlands only meet bare minimum requirements as developers try to reduce costs. This means the wetlands are often too small to ensure quality water is leaving a site. The maintenance of the wetlands to ensure silt and litter are regularly removed and plants are maintained is limited by lack of access caused by poor design and high maintenance costs. 
When a new estate is fully developed, and the maintenance responsibility is transferred to Central Coast Council, budget constraints are compounded by the poor design of the wetlands they inherit. Strengthening planning controls to meet stricter guidelines for constructed wetlands is the solution; however, this would increase costs for developers and require a stronger political commitment. An environment levy to fund maintenance is also an option.
To help residents understand and value the role of constructed wetlands, new housing estates are carefully planned so that housing faces towards them and community open space is often provided adjacent to them. This has reduced the dumping of waste and degradation that occurred in the past when these constructed wetlands were behind people's back fences. 
Wildlife corridors can be effective in protecting vulnerable species such as squirrel gliders. Unfortunately, many wildlife corridors in the PCW catchment such as the Wadalba Wildlife Corridor have been encroached on by adjacent development and dissected by roads. This has narrowed and fragmented the corridors significantly and exposed them to the activities of nearby residents such as the illegal dumping of rubbish, the clearing of plants for recreational activities such as mountain biking and fire. Fragmentation by roads has necessitated the placing of wires at height across roads to facilitate the safe movement of possums and squirrel gliders. 
It is important for the future of Porters Creek Wetland and the Tuggerah Lakes that the rate of population growth and urbanisation doesn't occur faster than the ability of legal protections and management practices to cope. Is it too late?
1. Create a mind map to illustrate a range of strategies at different scales used to manage and protect Porters Creek Wetland.
2. Explain how constructed wetlands address the issues created by increased urban stormwater runoff in the Porters Creek Wetland Catchment.
3. Refer to Figure 2. List the features of constructed wetlands you can identify in the three photographs.
4. Assess the effectiveness of constructed wetlands in addressing the quality of stormwater runoff entering Porters Creek Wetland.
5. Explain why wildlife corridors and land buyback would benefit biodiversity in Porters Creek Wetland.
6. Use Figure 3 to create a sketch map of the Wadalba Wildlife Corridor. Use a digital mapping tool such as Google Maps or Google Earth determine the direction to PCW Add arrows to your map to show the direction wildlife would move to reach Porters Creek Wetland during a drought, or a bushfire at Wadalba.
7. Predict how climate change could impact on Porters Creek Wetland in the future.
8. 'Catchment management is more important for the future of Porters Creek Wetland than measures that provide for its protection". Discuss this statement.
9. Assess whether it is too late to restore the ecological integrity of Porters Creek Wetland.
10. Visit the Rumbalara Environmental Education Centre Google site for Porters Creek Wetland and complete the Virtual Fieldwork activities using this link.
https://sites.google.com/education.nsw.gov.au/porters-creek-wetland/virtual-fieldwork